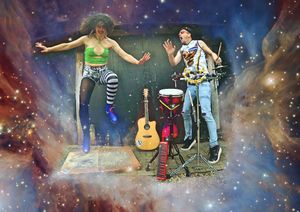 Hi,  We are Matt & Maria from Kid Hyena an 'Electro Alt Hop' act formed in Barcelona now based in the UK. 
Our vibrant live show contains fresh and fiery musical flavours fused together with Body Percussion, Tap Dance & Finely Crafted Songs.
As teachers, workshop facilitators and educators we have a combined experience of over 30 years working in schools, music & arts camps, music programmes, theatre societies & festivals.

We also have produced & led many events over the years including improvisational comedy shows, concerts, fundraising gigs,  a surf festival and supportive shows for youth music programmes.

The 'Kaboom!' project brings together our immense performance & facilitating knowledge with the aim of providing a fun, diverse, affordable and positive learning experience for all participants.

Please sign up to our mailing list to stay updated on all things 'Kaboom!'.
We look forward to meeting you.
Matt & Maria
"

Our vision is to share our skills with the community to create positive change in people's lives through music and expression, and above all, through fun and laughter in a non judgmental, dynamic, playful and inclusive environment."